Western nations are imposing increasingly severe sanctions on Russia following its invasion of Ukraine.
The measures are designed to cripple Russia's economy and punish its government for taking military action.
A sanction is a penalty imposed by one country on another, often in order to stop it acting aggressively or breaking international law.
Sanctions are often designed to hurt a country's economy or the finances of individual citizens such as leading politicians. They can include travel bans and arms embargoes.
They are among the toughest measures nations can use, short of going to war.
What sanctions are Western nations imposing?
The European Union, US, UK and allies have agreed to remove selected Russian banks from the Swift messaging system, which enables the smooth transfer of money across borders.
The action is aimed at cutting Russia off from the international financial system and to "harm their ability to operate globally".
A ban from Swift will delay the payments Russia gets for exports of oil and gas.
However, Russia could get paid through other systems – for example, China's Cross-Border Interbank Payment System.
The ban will also affect companies owed money by Russia – and cause disruption to some countries' energy supplies.
Western leaders have agreed to freeze the assets of Russia's central bank, to limit its ability to access its $630bn international dollar reserves.
In co-ordination with the US and the EU, the UK government has also banned British people and businesses from making transactions with the Russian central bank, its finance ministry and its wealth fund.
Targeting a central bank of a G20 nation is unprecedented and designed to "push the whole of Russia in to as deep a recession as possible, with the added chaos of bank runs", says BBC economics editor Faisal Islam.
On top of action on the Swift system and Russia's central bank, all major Russian banks are being excluded from the UK financial system. This stops them from accessing sterling and clearing payments through the UK. All Russian banks will have their assets frozen, the UK has said.
It also announced laws to stop major Russian companies and the state raising finance or borrowing money on UK markets, and placed a limit on deposits Russians can make to UK bank accounts.
EU measures have been announced targeting 70% of the Russian banking market and key state-owned firms, including defence firms.
The UK, EU, US and other countries have announced curbs on products that can be sent to Russia. These include dual-use goods, which are items that could have both a civilian and military use, like high-tech items, chemicals or lasers.
The EU is aiming to make it impossible for Russia to upgrade its oil refineries with an export ban on certain materials. It is also banning the sale of aircraft and equipment to Russian airlines in an attempt to damage its economy and connectivity.
Western governments have imposed sanctions on some individuals, including a "hit list" of powerful, wealthy businessmen and women known as oligarchs.
Also targeted are Russian President Vladimir Putin and his Foreign Minister Sergei Lavrov, whose assets in the US, EU, UK and Canada will be frozen and, in the case of the US, a travel ban imposed.
The EU, UK, US and Canada have launched a transatlantic task force to identify and freeze the assets of sanctioned individuals and companies, targeting more "officials and elites close to the Russian government, as well as their families".
The UK is limiting the sale of citizenship via "golden passports", which allow wealthy Russians to become citizens.
The EU has announced a blanket ban on Russian flights. Russian aircraft are unable to land in, take off from or fly over any EU nation, meaning longer journey times, and have also been barred from UK airspace
The EU is also going to ban Russia's state-owned news outlets Sputnik and Russia Today
Germany has put on hold permission for the Nord Stream 2 gas pipeline from Russia to Germany to open
It is also introducing the same dual-use restrictions that it imposed on Russia.
It said it would also sanction individuals who are "helping the Russian war effort".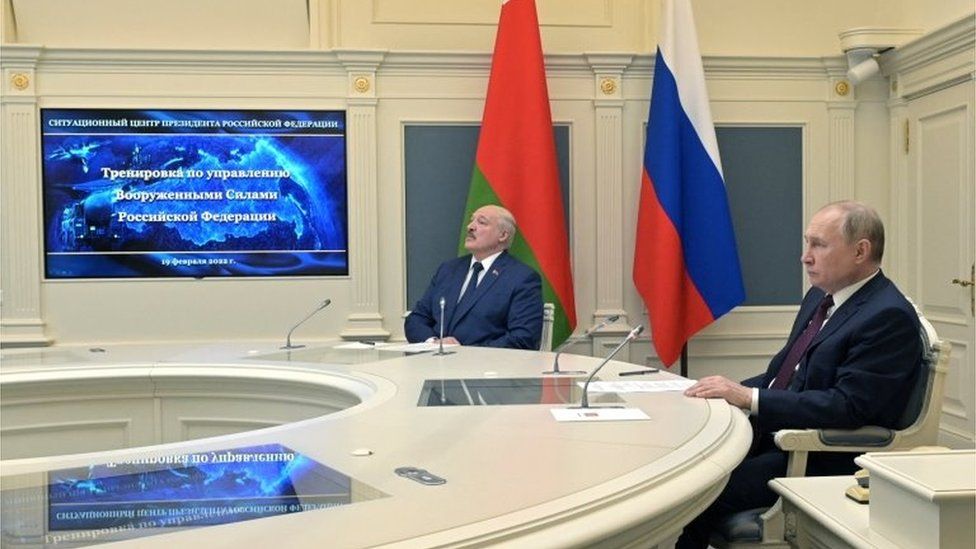 The US has sanctioned a number of Belarusian individuals and entities, including state-owned banks and defence companies.
UK Prime Minister Boris Johnson has also promised sanctions on Belarus for its role in the invasion.
How has Russia reacted to the sanctions?
British airlines have now been banned from Russian airspace or landing at Russian airports, and in a retaliatory move, Russia's biggest airline, Aeroflot, said on Sunday it would cancel all flights to European destinations until further notice.
Hitting the Russian banking sector is likely to damage firms which do business in Russia, or have assets in its banks, and the export ban on high-tech goods will hit many Western manufacturers.
Source: BBC